Taking over the estate
Coming from a long ancestry of 11 generations of father-to-son winegrowers, François Raquillet started working the vineyard with his father in 1984 and took over the estate in 1990 with his wife, Emmanuelle. Since then, he has made significant changes to the work philosophy by reducing yields and introducing premium quality barrels. The estate cultivates fourteen hectares of vines in the Côte Chalonnaise and offers a diversified range of white and red wines. Since 2018, their daughter, Jeanne, has joined her parents on the estate.
Working with vines
It involves meticulous work that starts in the vineyard with rigorous pruning and debudding as well as taking care of the soils, which facilitates ecosystem balance. The soils are worked for several years alternating tilling and plant cover. The estate does not use anti-botrytis and tending the vine (leaf removal) becomes a crucial factor.
Harvests
At Domaine François Raquillet, harvests are manual and each grape is scrutinised by a team of six people at the sorting table so that only the best are selected for production..
domaine raquillet
Meticulous tending of vines to produce Grands Mercurey
History of
Domaine Raquillet
The estate has 14 hectares, including 3.5 hectares as Premier Cru, with a yield of approximately 40 hectolitres per hectare for red wines and 50 hl per hectare for white wines. The density is 10,000 feet/ha, which encourages competition between vine stocks and therefore reduces the number and size of the grapes.
The estate cultivates vines according to the integrated pest management method.
SURFACE AREA

14 hectares

Soils

Clay-limestone

GRAPE VARIETIES

Pinot noir, Chardonnay

Agriculture

Integrated pest management certified since 2016

HARVESTS

Manual

Production

80,000 bottles
Soil
The subsoil consisting of deep marls produces the fullest-bodied wines. On stony soils, resulting from decomposed rocks, wines are more supple with greater finesse. There is a wide range of nuances between these two types. White marls produce a rich and full-bodied Chardonnay.
Terroirs
The vines are located at an altitude between 230 and 320 metres. They extend over Oxfordien marly-limestone terrains and marls. To the East, limestones and marls. To the West, a Jurassic structure and a crystalline base covered with sandstone. Vines have warm affinities with these white and limestoney, or red and clayey soils.
Grape Varieties
Pinot Noir has bunches that are small and compact. Its berries, with their thin and delicate skin, have an intense colour with hints of bluey-black or dark purple.
Chardonnay has small elongated bunches. Its spaced-out and aerated berries are a magnificent golden colour when they ripen. They produce a very sweet and full liquor.
Sunshine
The Burgundy wine-growing region, which is 150 km long, enjoys climatic conditions that are particularly favourable for wine growing. A combination of Mediterranean, Continental and Oceanic influences contribute significantly to the aromatic richness and international reputation of its wines.
Appellation
AOC Mercurey is most sought-after for its reds, but produces a few white wines worthy of interest. It is located in the North of the Côte, in extension of the Rully wine-growing region. With 670 hectares, it is the largest wine-growing region in Côte Chalonnaise.
Cuverie
In tempor, mauris nec viverra molestie, lorem diam dignissim ex, quis lobortis dui turpis ut enim lacerat in massa eget, lacinia accumsan nunc magna.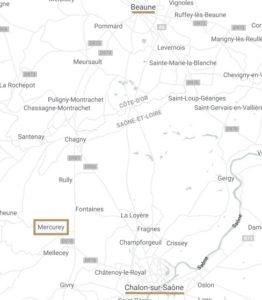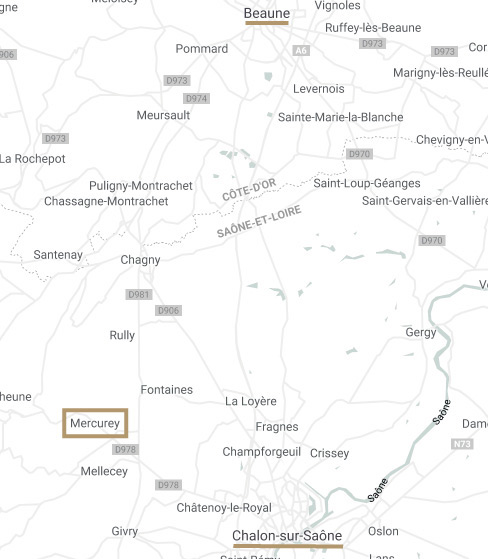 The Village Appellation of Côte Chalonnaise is one of the most important wine appellations in Burgundy with 670 hectares of vines.
Domaine François Raquillet cares about offering top-quality wine ranges in this vast appellation thanks to considerable efforts made over the last few decades and thanks to the high-quality plots that the estate owns and takes meticulous care of.